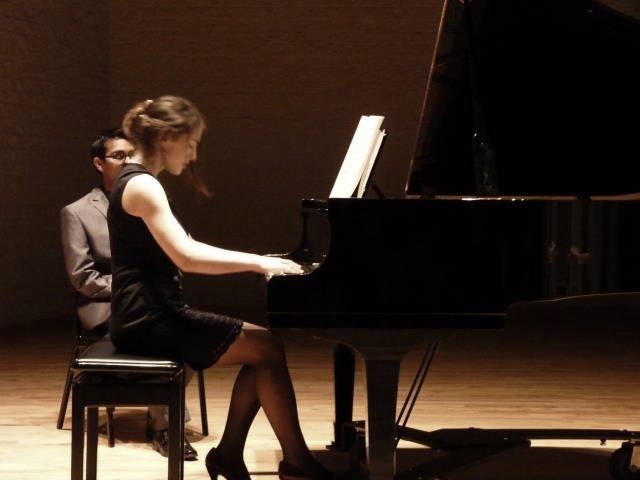 Education is not the filling of a vessel, but the kindling of a flame.
Jessica Carnevale teaches piano at Rose City Piano Studio. While teaching private lessons for over 15 years, she has worked in diverse arenas to enhance accessibility of music, including time with the Carondelet Aphasia Program for elderly stroke patients, and an after-school keyboard class at St. Thomas preschool.
Jessica has recently relocated to just outside of Portland, Oregon, where the Rosewood Piano Studio has evolved into the Rose City Piano Studio. At the time of the move, Skype lessons were introduced to the studio to accommodate students who stayed on during the move. Due to their success, these have evolved into Rose City Piano's newest addition, the Distance Learning Program. This offers greater accessibility to students around the world who want to refine a sustainable, injury-preventing technique, and who thrive in the gentle-yet-challenging environment Rose City Piano has become known for.
As a child, Jessica studied with Cynthia Pace, the daughter of renowned pedagogue and publisher Robert Pace. While a student at the University of Arizona, she studied music theory and performance with Dr. Timothy Kolosick and Dr. June Chow-Tyne, respectively.
Jessica is committed to ongoing professional development. She stays true to this aim through regular engagement in pedagogy forums and live workshops. Consulting with experts in the fields of music and medicine, extensive readings from recently-published studies on
music and the brain to the esoteric out-of-print essays published during the golden age of piano, Jessica is as enamored as ever with her craft, and thrilled to be able to share all of it with the community of Rose City Piano.
The best teachers, she believes, are also lifelong students.
As a longstanding member of MTNA and its state and local chapters (previously Arizona, and now Oregon) Jessica has stayed active in the community. For the Tucson Music Teacher's Association, Jessica volunteered several years to serve as Chair of both the prestigious Command Performance and Music in the Mall performances, and has been invited by other chapters to present in forums about technology in music and her experiences with CAP.
Jessica has performed alongside Michael Navarro and Jamee Haddorf in Tucson's own Giocoso Trio.
Jessica contributed to the proofreading and editing of a beautiful new book pairing stories and piano duets by Nikolas Sideris, "Fairyland in Treble," released in late 2014 by Editions Musica Ferrum. One of her students helped to premiere the work before it was published.
Jessica's teaching philosophy places emphasis on serving the learning style and best interests of the individual. She is inspired by the quote oft-attributed to Plutarch:
"Education is not the filling of a vessel, but the kindling of a flame."